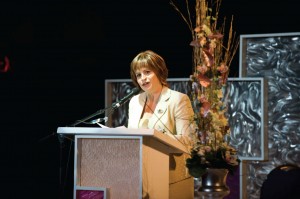 When I was a little girl my father used to whistle, and sometimes sing, this annoying song. The lyrics were "…she'll learn to cook and to sew. What's more she'll love it I know…" but when I borrowed 10k from him to start a business and paid it back in two weeks I got his attention and our relationship changed.
My father was a lawyer and detail guy and I was a visionary, builder type. Our conversations were the same "what if" and "but have you thought of.." for many years. He was a balance for me. One of the last times I saw him in the nursing home he was having a moment of clarity "Bid! (the nickname he used to call me). How is that guy doing in Toronto you hired?" He had forgotten so much of his life at that point that it was amazing he had remembered my business expansion. The last thing he said to me as he pushed his wheelchair towards the nursing station was "I will hand in my room key and check out, you fetch the car".
I have always wondered how my Dad, in his good days, might have advised me when a billion dollar company, one of Canada's greasiest cultures, a monopoly with government ties, the only supplier in a industry, and run by a egotistical man who did not like me or successful women, deliberately orchestrated the overbilling of my company and forced me to shut down my successful company. Would Dad have rallied the legal team to take on the bullies defying the logic of the lawyers at that time that who strongly recommended against taking on a billion dollar company? They said at the time: "It doesn't matter about the evidence of this wrong doing the legal fees to pursue justice will sink you". I think he would have. He was a man of principal. Well one thing thing I learned is that when the legal system fails to defend, believe in natural law because it does not decern based on money and it always delivers.
The challenges of founding and growing a business as a woman entrepreneur are far different than those faced by men, for one thing you realize you are alone and are stuck small if you don't have "Dad" or a suitable stand-in to accompany you to the bank. When I was awarded Woman Entrepreneur of the Year  http://pcminteractive.com/woman_ent_2008.html for Manitoba I thanked my all male management team because if I didn't have them I would not have made it. A key ingredient to our success at that time was putting in place the financial instruments to support our growth. I hired a guy who arranged our million plus operating line at 4% because Dad was no longer available.
For a woman entrepreneur trying to find proper financing, whether that is start-up capital, a term loan,  or receivables funding, the chance of success is akin to trying to find a needle in a haystack. It is astounding that only 3-5% of women-owned businesses get any Venture Capital funding and over 95% of all Venture Capital funding goes to companies with NO women founders. Yet women are driving the entrepreneurial sector. There are 7.6 million women entrepreneurs in the United States, generating over $1.2 Trillion in revenue each year. 40% of all privately owned businesses are owned by women. So why are we so badly ignored?
I don't know. Perhaps it is time "…to learn to cook and to sew…" (I can hear that annoying whistling in my mind's eye. UGG!).
On the other hand maybe there is hope. Here's a educational video initiative supported by some trailblazing women in the US including Janet Hanson, the founder of 85 Broads in New York. As one of Goldman Saks' first female directors, a survivor of breast cancer, Janet is a trailblazer and a supporter of women and women entrepreneurship all over the world. I attended a breakfast in New York several years ago and was amazed by her presence.
By Elizabeth Gage |
Comments (0)